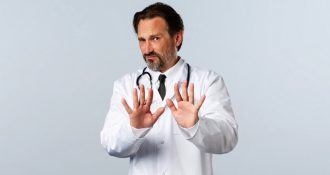 The following article, Finland's Leading Gender Medicine Doctor Turns Against 'Gender Affirming Care', was first published on .
One of Finland's top gender care doctors who was there at the beginning now says that she no longer believes that so-called "gender affirming care" is the right way to go for most children, and in fact it is dangerous for them.
Dr. Riittakerttu Kaltiala was one of the leading doctors in transgendering, but as time went on, she began to realize that all the promises of the field were not yielding real results. And instead, many kids were no better off at all after "transitioning."
Kaltiala has written that she and other transgender experts were finding legions of teen girls flooding their offices, but instead of being "high-functioning," it appeared that they had all sorts of mental problems.
She also found that everyone else was having that issue, too. And when they treated them, their problems did not miraculously clear up. Many got worse.
"The young people we were treating were not thriving. Instead, their lives were deteriorating. We thought, what is this? Because there wasn't a hint in studies that this could happen. Sometimes the young people insisted their lives had improved and they were happier," she wrote. "But as a medical doctor, I could see that they were doing worse. They were withdrawing from all social activities. They were not making friends. They were not going to school. We continued to network with colleagues in different countries who said they were seeing the same things."
Kaltiala also said that she and all the other gender docs were finding these girls telling the same stories as if they were coached. It turned out they were getting counseled over the Internet on how to present their issues to gender doctors so they could get what they want instead of telling the doctors how they were really doing.
But she found that none of her colleagues would speak out about these issues because they were afraid to be attacked as haters.
Ultimately, she came to believe that the gender affirming field was flawed and full of false data.
Finland's national medical body, COHERE, released its findings and recommendations regarding youth gender transition. It concluded that the studies touting the success of the "gender-affirming" model were biased and unreliable—systematically so in some cases.

The authors wrote: "In light of available evidence, gender reassignment of minors is an experimental practice." The report stated that young patients seeking gender transition should be instructed about "the reality of a lifelong commitment to medical therapy, the permanence of the effects, and the possible physical and mental adverse effects of the treatments."
These are facts from everywhere. Gender affirming care is a lie.
So far, doctors in Europe are finally starting to realize this.
How long will it take for doctors in the U,.S., to realize it?
Follow Warner Todd Huston on Facebook at: facebook.com/Warner.Todd.Huston, or Truth Social @WarnerToddHuston
Continue reading Finland's Leading Gender Medicine Doctor Turns Against 'Gender Affirming Care' ...